North Beat.
Greetham – during the hours between 1.30am and 3.30am on 20.5 (Thurs) and the 2 1.5.21 (Frid) in the parking area of the Ram Jam Inn, the A1 Great North Road, a total of 3 lorries were attacked) believed by 2 men who slit the curtains on the lorries whilst the drivers were sleeping.  The thieves were disturbed by a Police patrol but it is not thought anything was stolen.  Enquiries continue.
Harringworth /Shotley – Adjacent Seaton/South Beat)
Neighbourhood Alert re attempted theft of lambs in fields at Harringworth/Shotley area, Percys Path most likely Northants area fields
Vehicle 1 Index believed KS56 GU*.  Colour: Red Ford  Year: 56 Type: Car in Harringworth/Shotley area about 4pm, on 24.5.21(Mon) ().  Exact location not known.  Two youths seen attempting to catch lambs.  Farmer alerted and took photograph of the boys and their car.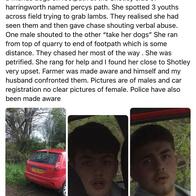 Photographs are circulated on Next Door Uppingham social media.  Ref  reply+GE3TKOJSGE4TAMJZHEYDMM27OBZG6ZDVMN2GS33OL5IE6U2UL4YTONJZGIZDAMBVGQ2DMMRY@reply.nextdoor.co.uk
This has been notified to the Police, but this may be dealt with by Corby Police Northants.
If anyone thinks they recognise the youths or the vehicle, please tel police 101 or E-mail Next Door with the above address quoting the reference.
Ruthven Horne.